I was recently asked to collaborate with one of my dearest pals, Sarai Brinker over at A Mom's Manual To Mettle on a piece for the Fort Worth Star Telegram. Sarai is not only an awesome person, but also a great writer. (Go read her blog!!!) This was our first collaborative project and hopefully the start of many to come. So, if you subscribe to the paper, check Saturday's paper (Feb.4) for the print version of these.  If you missed the print version, or want to pin it on Pinterest, you can do that here, or check out the article in it's entirety here.
1. I LIKE YOU HAIRY MUCH mustache lollipop:
I made this for George when he was in preschool and we're bringing it back this year.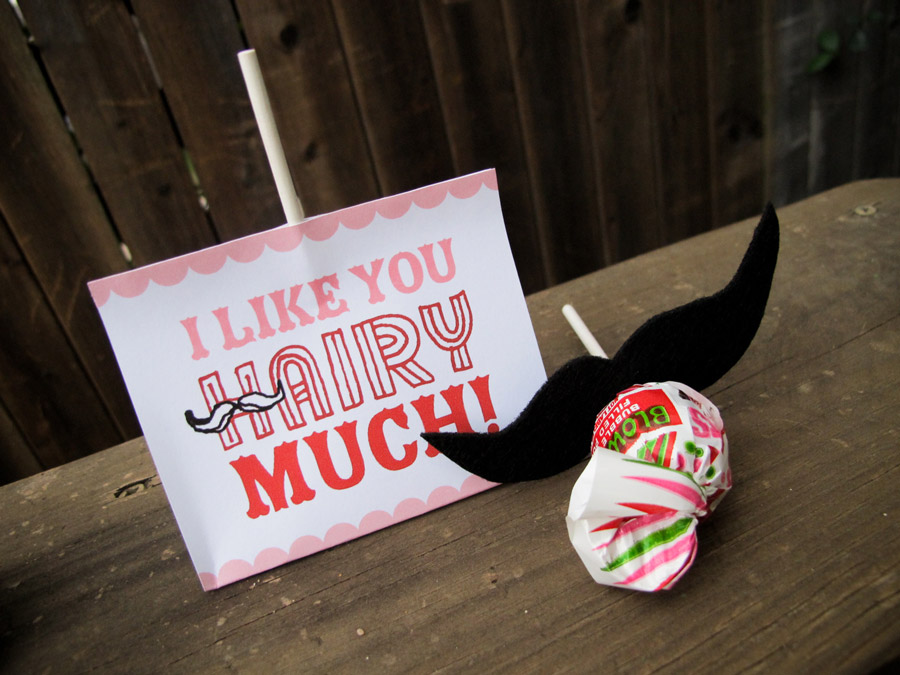 2. IF LOVING SCHOOL IS WRONG pencil and bookmark set:
This one is for Francis, she is in first grade this year and going through pencils like crazy. She also loves school. Matt wrote the tagline. I told him, "Matt, I want to do a Valentine with personalized pencils. I need a tagline." Ten minutes later, he gave me "If loving school is wrong, I don't want to be write",  "Valentine, you're all write!" and 10 others. Good gracious, I can't do that. I'm all about the design, he's about the words.
Peanut Butta' and Jelly, folks… that's how Matt and I work together.
I ordered personalized pencils from Teachers Only (which evidently is not just for teachers). For .89 they'll send you a set of 3. You could also, of course, just use regular pencils, but I just couldn't resist.  Ours say "I love ( her Teacher's Name), I love (her School Name), and I love (art, science, reading, writing and math – an assorted variety of each of these). For extra fun, I made the tag a bookmark too. So when the pencils get unwrapped, they can mark their spot in their favorite book.
Try using this coupon code: SHHSALE – for free shipping and 10% off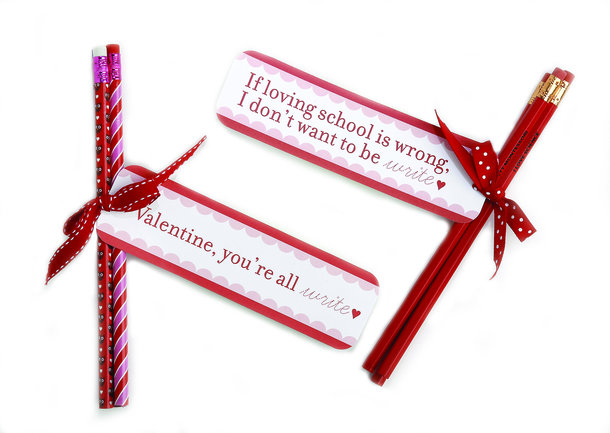 4. YOU MAKE MY HEART BOUNCE and HAVE A BALL (not pictured):
Not an original idea, I saw the "Have a Ball" valentine on Pinterest, but Sarai came up with the "You Make My Heart Bounce" tagline and I couldn't resist doing it for our project. So simple, so affordable. Paper, sandwich bags and Dollar store pink balls. (Okay, it's the little things… don't you love that they are "Pinky" balls I have to say when I found those, it made my day.)


 5. I LOVE YOU SEW MUCH:
This was a last minute edition to the newspaper piece. After designing the others on the computer, I was thinking there needed to be more handmade examples, so I quickly came up with this. Funny though, in the end, I think it might be one of my favorites. Card stock, string and a screw punch = easy. You can buy a screw punch at Michaels. They run about $20, but you could easily cut that price in half with a coupon. Just google "Michaels printable coupon." They also honor Hobby Lobby and Joann coupons. So print whatever has the biggest discount.
Also, Don't forget to wrap scotch tape on the end of the string to make it easier for little fingers to thread through the holes though. Oh and if I had a laminator, I would have done that too.


6. XOXO Tic Tac Toe Game:
Not much to add here, just a play off of  XO – hugs and kisses. You could use anything for pieces, just be sure to enclose enough to both play and eat.


Hope you liked these as much as I enjoyed making them and working with my buddy, Sarai. Pin away and if you do end up making them or blogging them, send me the link, I'd love to see yours!
Here's a link to the download of my designs. Be nice. These are for personal use only.